MEET BEOSOUND EDGE
COMPACT AND POWERFUL WIRELESS SPEAKER
Beosound Edge is the latest addition to our range of wireless speaker systems, and it represents a whole new way of thinking interaction and sound. Beosound Edge is a compact and powerful wireless speaker, which offers an enchanting listening experience through an almost magical operation, timeless design and the most advanced acoustic innovation. Beosound Edge is a compact and powerful wireless speaker, which offers an enchanting listening experience through an almost magical operation, timeless design, and the most advanced acoustic innovation.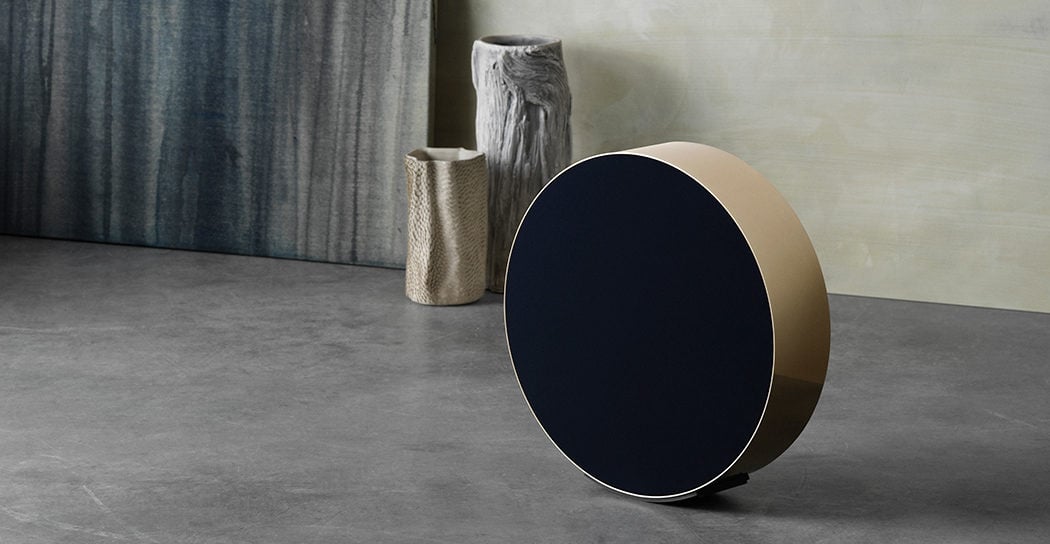 NYT MEDLEM AF MULTIROOM FAMILIEN
Beosound Edge giver dig den ultimative frihed, indenfor hvordan du afspiller musik.
Den er en wi-fi- og Bluetooth-opkoblet højttaler spækket med spændende funktioner og muligheder:
The world's first active basport – Read more below
Streaming via AirPlay 2, built-in Chromecast or Bluetooth
Bang & Olufsen Signature Sound with 360 degree sound
Timeless circular design
Two iconic location options
Multiroom with AirPlay 2, Chromecast or Bang & Olufsen Multiroom
Remarkable craftsmanship and uncompromising materials
Powerful, compact and wireless with a touch of magical operation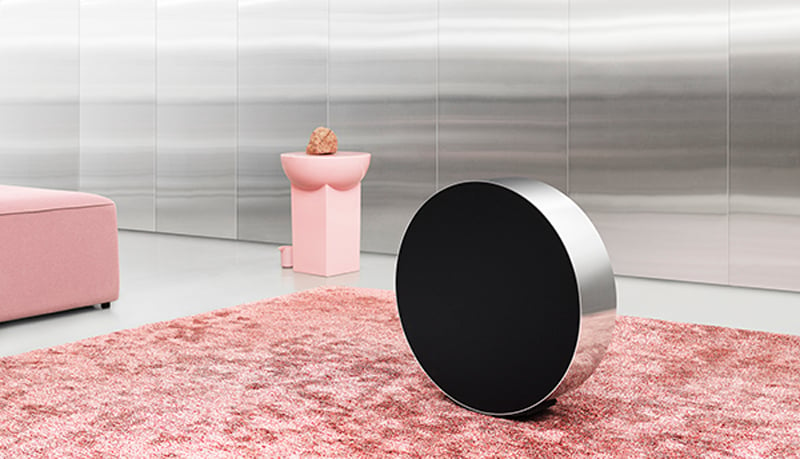 DESIGN PROFILE
Beosound Edge was designed by Michael Anastassiades. Michael Anastassiades is a new designer at Bang & Olufsen, and Beosound Edge is his first creation.
Beosound Edge's luxurious simplicity is reflected first and foremost in its minimalist and timeless design. It is inspired by a British 1-pound coin balancing on the high end which gives a dynamic impression. With Beosound Edge, consisting of a compact, circular shape, and a polished aluminum cabinet, is less more Beosound Edge can be placed to complement furniture on the floor or as a gravity-challenging statement on the wall.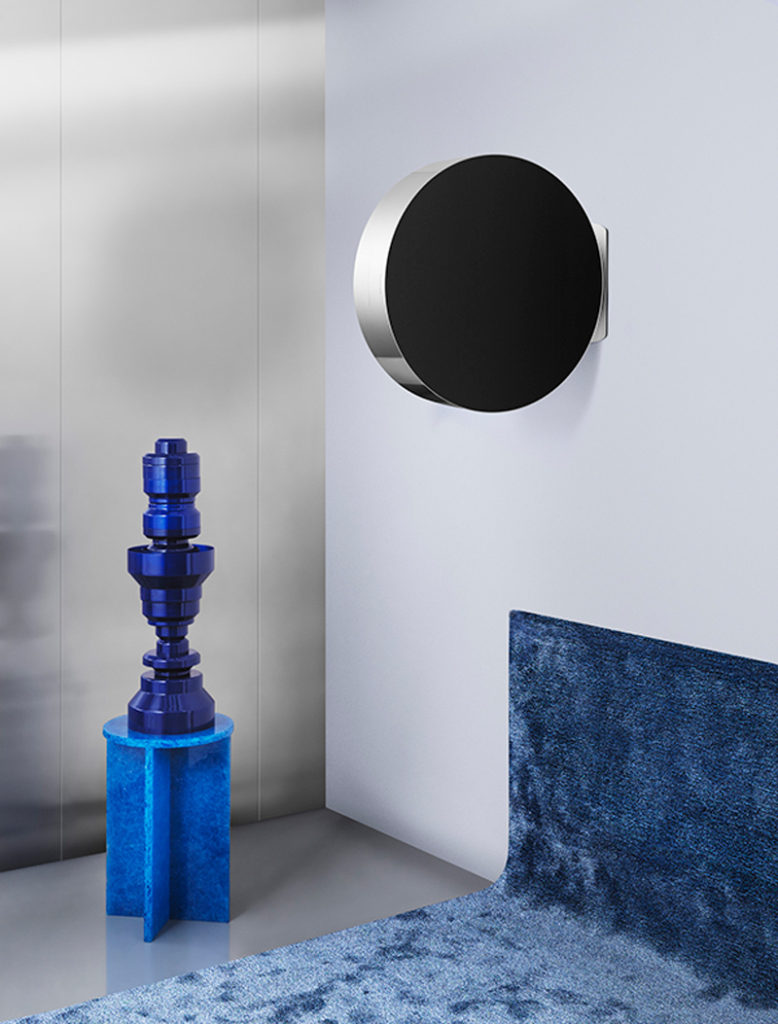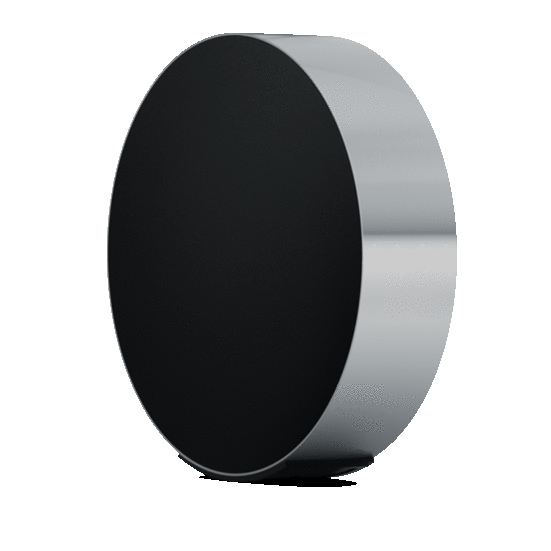 "The products always radiate an element of timelessness when observing them, and while technology evolves rapidly, they are still relevant and give a contemporary feeling."
Michael Anastassiades
Designer
MAGIC
It is enchanting to operate the Beosound Edge. A push in any direction from Beosound Edge's center of gravity regulates the volume. Scroll it slightly forward to increase the volume or backwards to reduce it. The more you roll it, the more intense is the sound experience.
THE SOUND
Beosound Edge is a high-power wireless all-in-one speaker. It uses the most advanced acoustic innovation to give you a powerful and accurate listening experience through our latest patent for the world's first active bass sport. Beosound Edge can whisper as beautifully as it can roar.
FLEXIBILITY
Beosound Edge fits into a flexible lifestyle, especially in larger spaces. With directional control of the sound, it can be used to split a room by playing music either left or right, or to fill the room with true 360° sound for full blasting from both sides of the speaker.
CRAFTSMANSHIP
True craftsmanship requires persistence, passion and curiosity. Beosound Edge is a speaker that has not been compromised on materials and craftsmanship. Remarkable craftsmanship and attention to detail was needed to get the perfect circular frame and then polish this exterior to a flawless finish.
STREAMING
At the same time, Beosound Edge gives you the ultimate freedom in how to play music. It's a Wi-Fi and Bluetooth-connected speaker that lets you easily stream from your favorite music services via AirPlay 2,built-in Chromecast, or Bluetooth.
THE NAME
With its name, Beosound Edges expresses its almost floating design inspired by a coin that mischievously balances up for grabs. If you're imagining a wheel or coin up for grabs and almost ready to roll away, you'll have the inspiration behind the Beosound Edge sound system.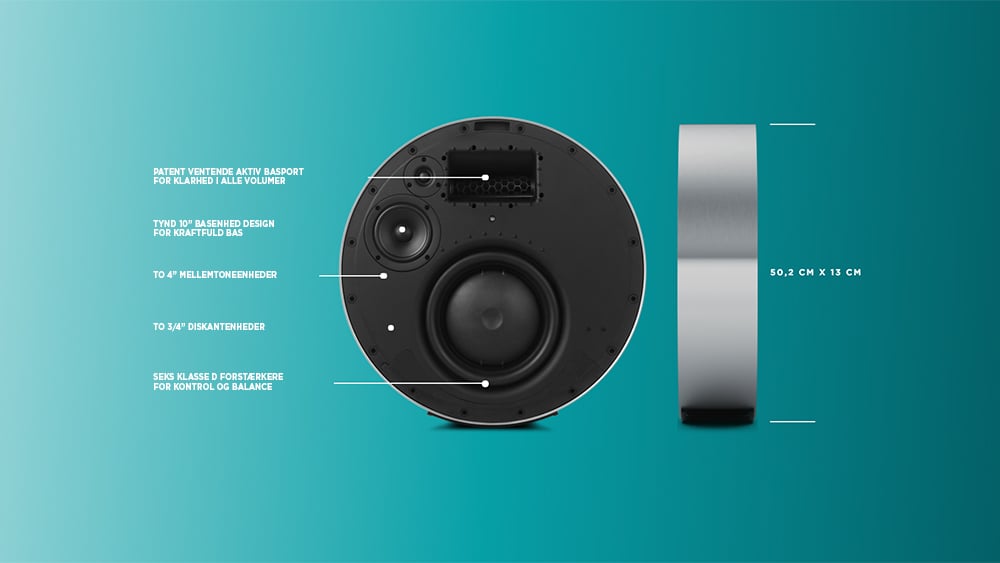 THE WORLD'S FIRST
ACTIVE BASPORT
The active bass port unites two classic concepts for speaker design, the so-called pressure chamber design and bass reflex design. The speaker provides a perfect and powerful bass at high volume by mechanically (and magically) opening the chassis to emit more bass. At the same time, it provides accurate bass at low volume using the pressure chamber principle, making reproduction as accurate as possible. Unlike other wireless speakers, the Beosound Edge can whisper just as beautifully as it can roar. In other words:
Beosound Edge must be experienced live!
PLACERINGSMULIGHEDER
Beosound Edge er en alsidig højttaler designet til hjemmets opholdsrum.
Den kompakte, cirkulære form giver to ikoniske placeringsmuligheder, enten på gulvet eller vægmonteret.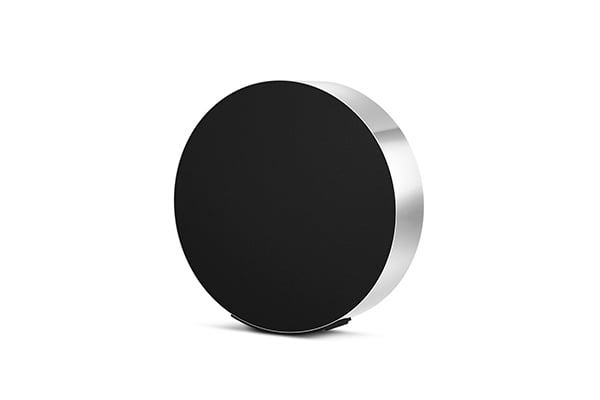 ON THE FLOOR
A Beosound Edge standing on the floor can be splendid as a main attraction, standing in peace and quiet in a corner or stylishly complementing other furniture. The space the speaker actually takes up is minimal, so you can place it right where you want your sound. Its discreet floor base enhances the product's "standing coin" expression while providing the magical scrolling motion.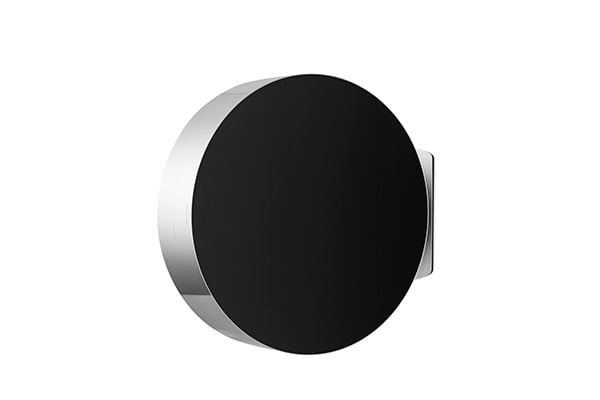 ON THE WALL
By hanging outstretched like a clock in a railway station, Beosound Edge tactilely divides the space in your home and makes it more appealing with two-way sound. Using a spring inside as a counterweight, it magically negates gravity while still allowing the user to feel the inertia of the product, giving a surprisingly wonderful feel.
– NEW COLOR –
Anthracite
We now have the pleasure of launching a new beautiful color for Beosound Edge, namely anthracite fronted in Hallingdal fabric from Kvadrat.
Beosound Edge in Anthracite is part of our newly launched CONTRAST COLLECTION by Bang & Olufsen, a collection focused on the joy of differences – between light and darkness, silence and noise, soft and hard – and celebrates the elementary tensions that fascinate and inspire us.
Discover contrast collection
HOME WIRELESS MUSIC
Beosound Edge supports Bang & Olufsen Multiroom and can be connected to other multiroom products from B&O.
Alle vores Multiroom produkter kan opleves alene eller forbundet med hinanden i hjemmet. Spil forskellig musik i forskellige rum eller samme musik i hele hjemmet. Styr det hele direkte fra Bang & Olufsen app.
We compare Beosound Edge to the latest version of our iconic and not least popular wireless speaker Beoplay A9.
Become more aware of their similarities and differences and get an overview of their many cool features.
Happy reading
Read our blog post