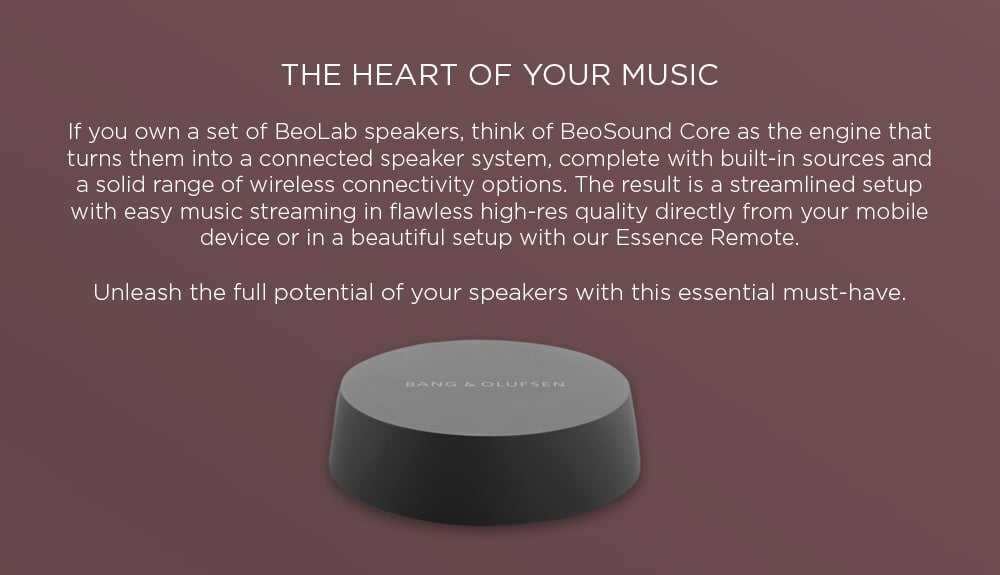 MEET BEOSOUND CORE
BeoSound Core is a small but powerful connectivity hub, designed for our BeoLab speakers and BeoSound Shape, giving you easy access to music streaming directly from your mobile device.
BeoSound Core turns your speakers into a future-proof wireless speaker system with Multiroom capabilities and lossless high-res audio streaming. Play directly from your mobile device or favourite music app via Chromecast built-in, Apple AirPlay, Bluetooth or your own digital music collection via DLNA. The choice is yours.
FEATURES
BeoLink Multiroom – Wireless distribution of audio across rooms / products

Streaming via: Chromecast built-in, Bluetooth 4.1, Apple AirPlay, DLNA and Spotify Connect

Integrated music services: Spotify, Deezer and TuneIn Radio

The possibility to wirelessly pair BeoSound Core with an Essence Remote for easy and quick access to your favorite music
Easy all-in-one access to your digital music collection via the Bang & Olufsen app
Safeguards your BeoLab speakers or BeoSound Shape setup through automatic software updates, keeping them up-to-date for many years to come.
SUPPORTS BEOLINK MULTIROOM
BeoLink Multiroom unites your Bang & Olufsen products in a single wireless system. Listen to different artists in different rooms, or the same artist in all rooms at the same time, giving you a unique sound experience even whilst you are moving from room to room. BeoSound Core adds the Multiroom functionality to BeoSound Shape or your BeoLab speakers, allowing you to connect more speakers throughout your home to a seamless audio system. Use your mobile device to control the whole experience or start your favorite music with a light touch on your Essence Remote.
Read more about BeoLink Multiroom