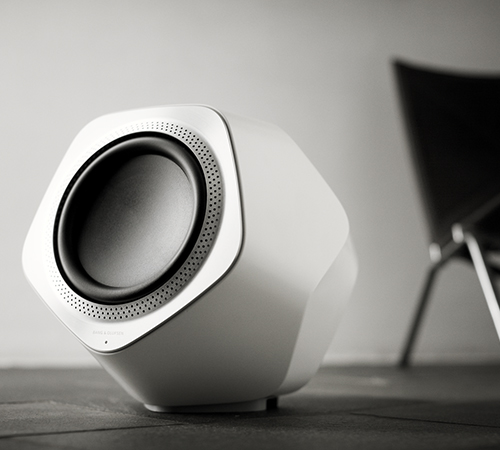 IMPRESSIVE SUBWOOFER
A progressive wireless subwoofer fusing stylish, distinctive lines with powerful and precisioned base. The striking design and its dynamic shape underlines the fascinating strengths of the Beolab 19. Using a wireless system, the Beolab 19 can be placed anywhere giving you limitless freedom to finding the most optimal spot for the Beolab 19 in your home.
A POWERHOUSE OF SOUND
When watching films, you will get an extra depth and detail of sound in even the lowest frequencies with the Beolab 19. Take advantage of the wireless freedom to find the perfect place for the Beolab 19 in your home. The only thing you need is a single power cable. The Beolab 19 will find and connect to any nearby WiSa-compliant TV or A/V receiver on its own. WiSA is the pioneering technology behind the Beolab 19 and works perfectly with the U-NII 5 GHz-spectrum, which secures a stable and unmatched signal.
THE PERFECT CONNECTION
No matter where you decide to place The Beolab 19, you will always be able to adjust the sound using the position switch to reach the best sound in the entire room. The Beolab 19 is equipped with Bang and Olufsen's new Immaculate Wireless Sound concept, which is a mixture of design, technology, and wireless sound in a class of its own.
Immaculate Wireless Sound is characterised by its multiple connection possibilities. Try to add the Beolab 19 to one of Bang & Olufsen Beovision TV models and you will get a sound quality with extra depth and detail. Or add a Beolab Transmitter 1 to your TV or music system regardless of what brand you have, and achieve an extraordinary wireless connection with the Beolab 19.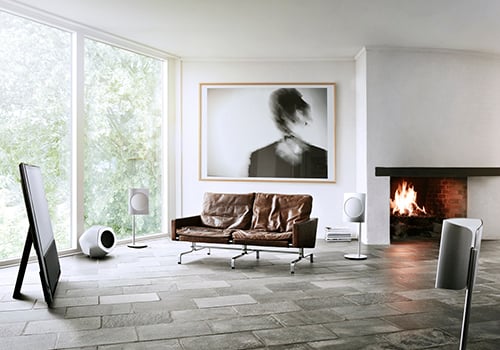 PLACEMENT OPPORTUNITIES
With a single setting the Beolab 19 distributes the soundwaves into the room, giving a cinematic intensity to your viewing experience that you could not imagine, no matter where you place the subwoofer.
ON THE FLOOR
If you place the Beolab 19 in the middle of your room it will spice up your interior decoration. Choose "Free" and the sound will be used in the most favourable way for this open position.
IN THE CORNER
If you choose to place the Beolab 19 in a corner, you will not have to worry about the interference from the walls. You just adjust the switch to "corner".
AGAINST THE WALL
If you choose to place the Beolab 19 against a wall, a sofa or a cabinet, you just adjust the switch to "wall" and you will still be able to enjoy a fantastic sound experience.