CREATED FOR
SOUND ENTHUSIASTS
The Beolab 50 is a high-end active speaker which combines advanced sound technology with elegant, aesthetic and meticulous craftsmanship. Beolab 50 is our first speaker which originates from the ground breaking Beolab 90 which raised the standards for state-of-the-art speakers.
Prepare yourself for a unique sound experience in all the ways that you enjoy sound at home:
Hi-Fi-sweet-spot, unforgettable parties  or unique cinematic experiences with your Bang & Olufsen TV.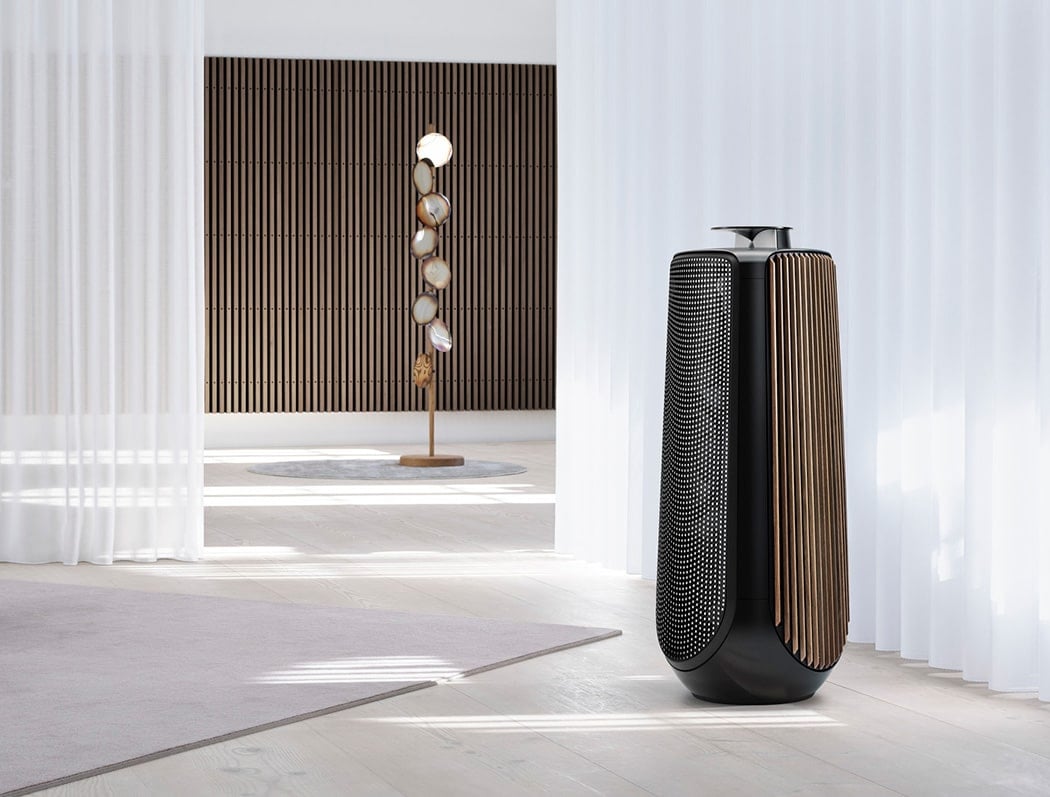 MAGIC
From the magical moment when the acoustic lens majestically rises up and slowly opens towards its audience, you have no doubt that you can expect a sound experience out of the ordinary.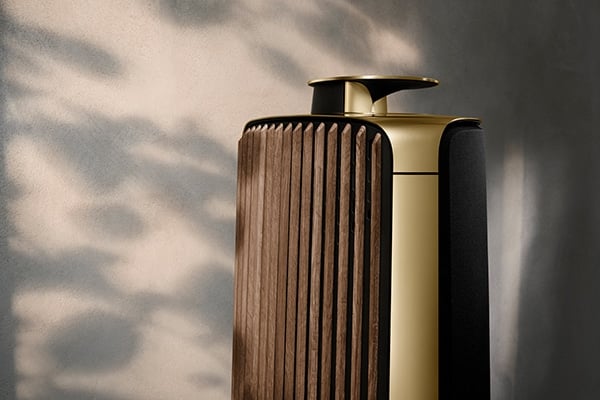 BRILLIANT SOUND
Beolab 50 is a high-end speaker that mixes advanced sound technology with elegant aesthetic and meticulous craftsmanship. A unique sound experience whenever and wherever you enjoy sound at your home address: E.g. Hi-Fi-sweet-spot, unforgettable parties  or unique cinematic experiences with your Bang & Olufsen TV.
UNIVERSALITY
Beolab 50 gives you unlimited placement options, you can place the BeoLab 50 anywhere you want and connect any source you please, you are free of any kinds of noise and distortion giving you the liberty to turn up the volume.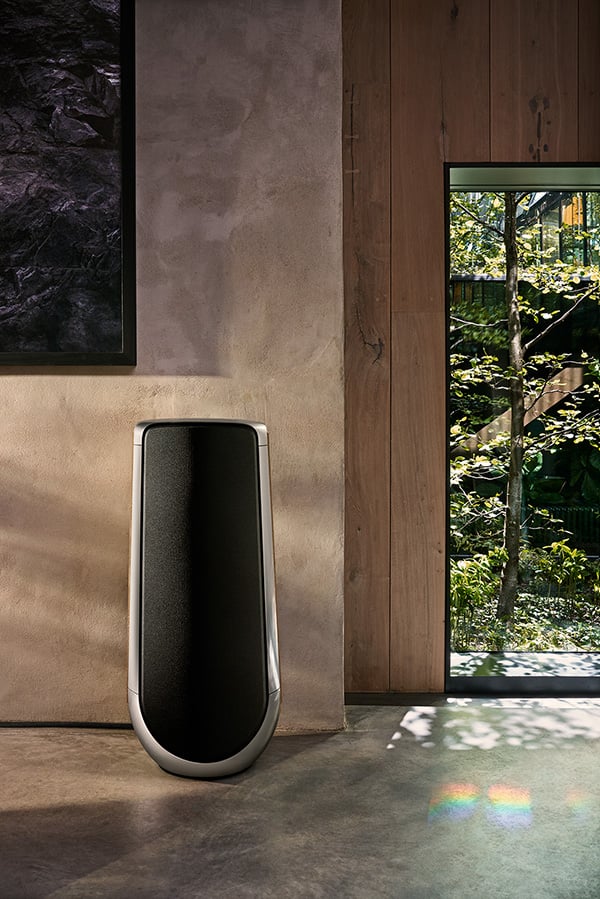 THE NEW BEOLAB 50
With Beolab 50 we are continuing our endeavours to create the sound of the future. It has an exceptional performance, innovative features when It comes to sound control and a unique design that unfolds in front of you.
Our acoustic engineers and designers have used several patented technologies and functions from the pioneering Beolab 90 and once more created a speaker in a league of its own.
ACTIVE ROOM COMPENSATION
Reflections from furniture or walls have an effect on a rooms acoustic capacity and distorts the sound from your speakers. The Active Room Compensation technology analyses your room with an external microphone and creates a set of user defined filters that compensates for these reflections. The result is perfect, a tailored sound in all the areas you prefer to listen to the ultimate sound from B&O.
DESIGN
The new Beolab 50 is designed with a slim and modern silhouette. With a height of only 103.6 centimetres and a width of maximum 45.5 centimetres, it is surprisingly compact for such a powerful speaker. The bottom is raised slightly from the floor which gives a light and elegant look that fits any interior decoration.
ACOUSTIC LENS TECHNOLOGY
It has a glimpse of magic to it when the acoustic lens gracefully unfolds, as you turn on the Beolab 50. But there is nothing random about this action. The lens can move from targeting the sound towards a specific sweet-spot to spread the sound out in front of it up to 180 degrees. It still still has a smooth and levelled balance giving everybody in front of the speaker an equal experience of the unique sound from Bang & Olufsen.
MATERIALS
At Bang & Olufsen we have always believed in the advantages of advanced technology. We asked our designers to create a high-end-speaker, which presents the same exquisite craftsmanship as a classic piece of furniture. This has been achieved by using typical Bang & Olufsen signature materials like the wooden panels, polished aluminium and exclusive kinds of fabric.
BEAM WIDTH CONTROL
The sound from the Beolab 50 follows the listener by the aid of the innovative Beam Width Control. By classic sweet-spot-listening the moveable wings on the acoustic lens pull themselves together and send a narrow sound beam towards the listener. If your home is filled with guests or the family is gathered in front of the TV, the wings spreads out and fill the whole room with classic quality sound from B&O.
DESIGNING THE PERFECT SOUND
Beolab 50 is equipped with seven powerful speaker units. A 3/4″ treble unit based on our Acoustic Lens Technology concept, three front facing 4″ middle sized units and three 10″ base units, which turn in three different directions. Every speaker unit is driven by its own 300 watts amplifier making the speaker deliver 2100 watts.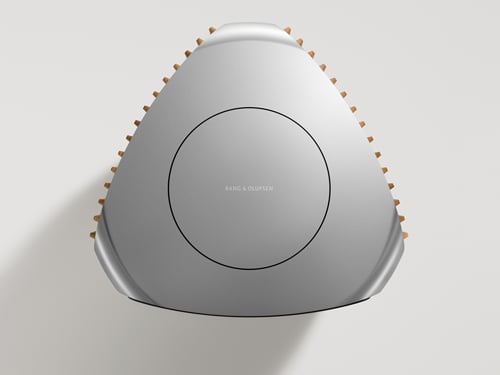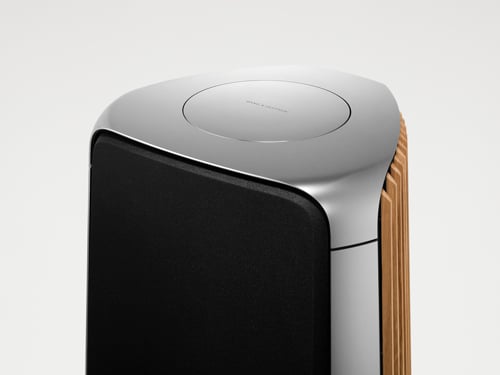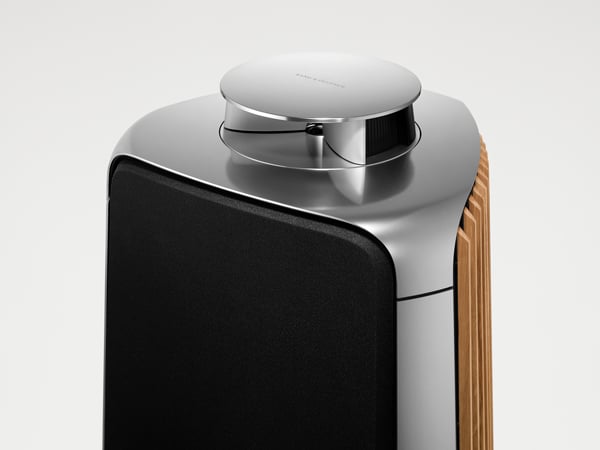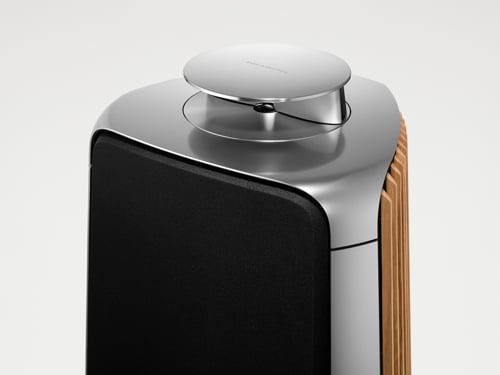 CRAFTMANSHIP
It is an uncompromising affair to build a speaker like the Beolab 50 which in every way reflects our life long tradition of innovative and classic craftsmanship.